The National Drug Law Enforcement Agency (NDLEA) yesterday said it had arrested a suspected drug baron who specialised in sponsoring drug couriers to China, Malaysia, Turkey, Italy and other foreign countries.
Addressing journalists at office of the agency at Ikoyi, Lagos, the NDLEA Chairman, Ahmadu Giade, said the 37-year-old suspect, Sylvester Chukwunwendu, was also a producer of methamphetamine in Anambra State. Giade said that Chuk
wunwendu was arrested at Ozubulu in Ekwusigo Local Government Area of Anambra State based on intelligence report received by the agency on April 23, 2014.
The suspect was said to be deeply involved in unlawful exportation of illicit drugs and running a methamphetamine production laboratory in his house at No. 2, St. James Close, Ajao Estate, Isolo, Lagos. Chukwunwendu, aka Blessed, was alleged to be the owner of the laboratory and leader of an international drug trafficking organisation which recruits and sponsors drug couriers to foreign countries. Giade said that sufficient evidence had been gathered to ease the prosecution of the suspect.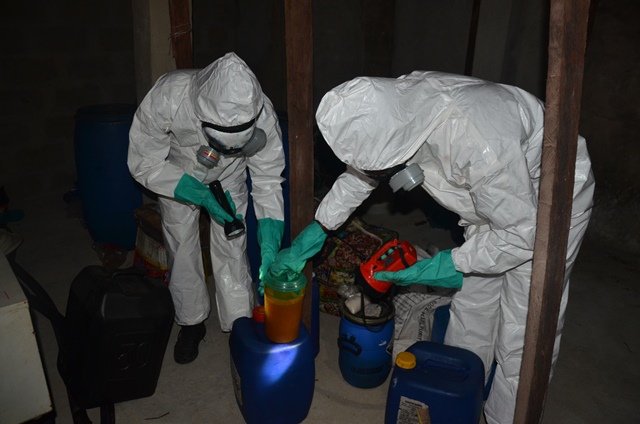 He said: "The Special Enforcement Team (SET) of the agency has concluded a model investigation of an international Drug Trafficking Organisation (DTO), after 13 months intense surveillance on the suspect before he was finally arrested." According to the chairman, the suspect hides under the cover of different businesses in running his drug business with international affiliation.
Some of his companies include Blessed Benita Global Limited, Ideal Motorcycle Company Limited and God's Special Enterprise Limited. He added: "Some of his couriers to China, Malaysia, Turkey and Italy were usually paid an average of $5,000 per trip." It was further gathered that the suspect hired one Raphael, a professional methamphetamine cook, to work for him.
The said Raphael is paid N500,000 for his service and N700,000 for the purchase of precursor chemicals per production cycle. Items recovered from the suspect's residence include 2.615kg of liquid methamphetamine found inside a yellow plastic jug, 250 grams of crystallised methamphetamine concealed in a white polythene bag and some laboratory equipment. Also recovered are two Nigerian international passports, one Ghanaian passport all bearing Chukwunwendu's photographs, with different names.
There are also one measuring scale, six heating filters, six giant conical flasks, industrial tubes and cups of sodium hydroxide. Giade disclosed that in another development, 23kg of methamphetamine was intercepted along Badagry Expressway, Lagos, en-route Cotonou. The suspect, identified as Azubike, is standing trial at the Federal High Court, Lagos in respect of the seizure. In his confessional statement, Azubike said he was sponsored by Chukwunwendu.
-New Telegraph