Tuesday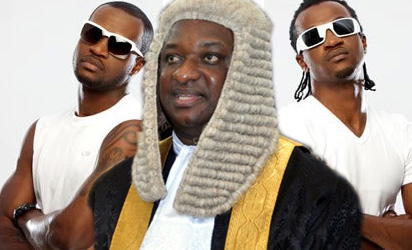 Lagos based legal practitioner, Mr. Festus Keyamo, SAN, on Tuesday, said his law firm was not involved in the leakage of a video that showed ace twin musicians, Peter and Paul Okoye, otherwise know as Psquare, fighting in his chambers.
However, Keyamo, in a press statement he made available to Vanguard, admitted that the feuding brothers had in some occasions in the past, had squabbles in his chambers as late as 12 midnight and 2am, one of which he said was captured in the video circulating online.
While appealing to Nigerians to grant the Okoye family the privacy, prayers and support they need "at these trying times", Keyamo, SAN, who is their lawyer, said effort was underway to reconcile the duo.
Noting that the Okoye brothers had in the past, overcame their differences and reunited, Keyamo, stressed that their wives had nothing to do with their current problem.
Monday
Curvy actress, Anita Joseph, was the topic of discussion during the week when a video that showed her twerking for actor, Charles Okocha, aka Igwe 2pac, went viral on the Internet.
A lot of people expressed misgivings about the video, saying that it did not tally with Joseph's claims that she is a born-again Christian.
However, Anita told sunday scoop that she doesn't see anything wrong with what she did. She said, "The video was recorded on a movie set; we're working on something together. I am not concerned about people saying all sorts because if you do something, and it is not criticised, then it means that thing is not worthwhile. The people who liked the video are about 80 per cent while the haters are just about 20 per cent; so it means we 'won.' Some people said we made their day with that video, while some said their children have been laughing so hard at the video. A lot of people have said encouraging things about the video and that's what matters. The people who don't like it can shove it up their backsides."
Translate