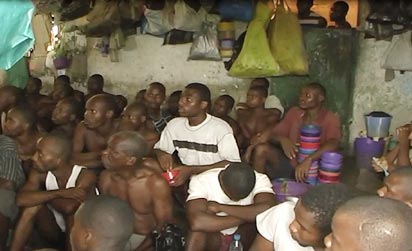 They readily, albeit regrettably, acknowledge their unenviable status as prisoners, persons who have been found wanting by their action or conduct under the law and therefore condemned to live under confinement. But that has not stopped them from pressing for their right to continued existence.
This obviously explains why inmates of the Awka prison in Anambra State have cried out to both the federal and Anambra State governments as well as private and public spirited individuals to come to their assistance before they die of hunger and penury while under the prison custody.
A self-acclaimed General Provost of the inmates who made the appeal on their behalf, identified hunger and starvation as one of their major problems. He spoke at the weekend when a philanthropist, Mr Godwin Ezeemo, visited them to mark his 59th birthday anniversary with them.
They also listed lack of electricity supply, non-functional water bore-hole, lack of accommodation, and medical facilities as some of their problems, adding that some of them die for lack of proper care.
He regretted that most of the inmates were either jailed for an offence they did not know anything about or were thrown into prison because they had nobody or money to speak for them in minor counts. While thanking Ezeemo for choosing the prison yard as venue for his birthday, they added that people like him deserve to be at the helm of government.
Earlier, Ezeemo had donated N250, 000 for the medical up-keep of inmates in Awka and Aguata prisons in Anambra State and promising to do more for their welfare. Ezeemo, leader of Anambra State chapter of Progressive People's Alliance, PPA and Publisher of Orient Magazine and Newspapers, noted that he chose to celebrate his birthday with the inmates of the two prisons in order to share with the down-trodden in the society.
According to him: "I feel fulfilled being here with you to celebrate my 59th birthday and also to know how you people are faring. Besides, I always like to add a new thing to my life. I came with a message of hope; that you can be the best you can be learning any trade or handi-work you can to better your chances of contributing positively to the society when you leave here.
"It is never the end of life, but a place to re-mould your character and refine you to become better and useful to the society," he said. The PPA leader also assured the inmates and authorities that he would look into their demands and see the little he could do as an individual.
"As an individual, I do not make promises, but I would take time to study your needs and see the little I could do as an individual. And I know and pray that it would not be long the authorities (Federal Government) would remember these prisons and do the needful to make it a real reformation centre as it is found in developed World," he added.
The Anambra State Chairman of PPA, Comrade Matthias Ameke, who felicitated with Ezeemo, thanked him for his humanitarian gestures in Anambra as well as his love to help the down trodden. In his response, the Deputy Comptroller of Prisons incharge of Awka prisons, Matthew Kalu thanked Ezeemo for his philanthropic acts and urged him not to relent as God loves a cheerful giver.
Kalu informed Ezeemo that the prison which was built in 1904 with a capacity of hosting only 238 inmates, is currently hosting over 450 inmates, to the extent that the inmates sleep turn by turn as a result of lack of accommodation, adding that lack of food and accommodation, acute shortage of water and and poor electricity supply have become their major constraints in the prison .
He also identified lack of funds for fueling of their official vehicles for the conveyance of the inmates to various courts and a lot of other problems are affecting the inmates adversely, adding that as a result of lack of accommodation, some inmates would go to sleep by 6 p.m. and wake up by 12 midnight to give others chance to sleep from 12 midnight to 6 a.m. in the morning.
He therefore urged Ezeemo and other public-spirited individuals and groups to come to the assistance of the inmates, since government does not have much to give. Highlights of the occasion were the cutting of the birthday cake, eating and dancing with inmates in the two prisons as well as presentation of Paul Harris Fellow Award to Ezeemo by the President of Rotary Club of Awka Metropolis, Dr Dennis Ekemezie, at the Awka Prisons.