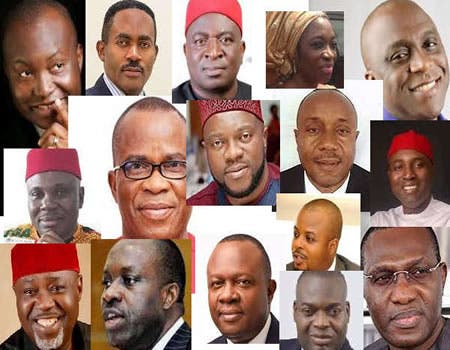 Uncle Peter Nawsike 07037946858
unclepeters555@gmail.com
There is an adage that "Peace Is Better Than Strife". That is why anybody who is in leadership position, who worths his salt, always advocates for peace and equity, because, "What is good for the Goose is also good for the Gander". Thus, envy, bickering, enemity, jealousy, hatred, acrimony are eliminated, because rancor is an ill-wind that blows nobody good.
In 2009, former Governor of Anambra State, Mr. Peter Obi, was campaigning for second term to start in 2010, to end in 2014. He came to Anambra North Senatorial Zone, with Venue at Nteje, Oyi Local Government Area. The people of the said Anambra North Senatorial Zone, complained that since the creation of the State in 1991, non of their indigene was Governor. They argued that at the creation of the State, Dr. Chukwuemeka Ezeife, from Igboukwu, Aguata LGA, Anambra South Zone, was Governor from 1992-1993. Barr. Chinwoke Mbadinuju, from Uli, Ihiala LGA, Anambra South Zone, was governor from 1999-2003. Dr. Chris Ngige, from Alor, Idemili South LGA, Anambra Central Zone, was governor from 2003-2006. Mr. Peter Obi, from Agulu, Anaocha LGA, Anambra Central Zone, was Governor from 2006-2010-2014. The people asserted that the condition of supporting his second term was that their indigene should succeed him in 2014. They argued that the foremost nationalist who brought Independence for Nigeria in 1960, Dr. Nnamdi Azikiwe, (Zik), was from their Zone, Onitsha Town, in Onitsha North LGA. So, they have capable hands to give Anambra State qualitative leadership. In response, Obi agreed with them that they have capable people, and that he would work towards the goal. Eventually, Obi won the second term in 2010, and when about to complete his second term, during shopping for his successor in 2012, remembered his Oral Gentleman Agreement with the people of Anambra North Senatorial Zone, and rooted for his successor to emerge from them. Desperate governorship aspirants, among them, Senator Andy Uba, from Uga, Aguata LGA, Anambra South Zone. Dr. Chris Ngige, from Alor, Idemili South LGA, Anambra Central Zone. Chief Ifeanyi Ubah, from Nnewi, in Nnewi North LGA, Anambra South Zone. Hon. Mrs. Uche Ekwunife, from Nri, Anaocha LGA, Anambra Central Zone. Chief Godwin Ezeemo, from Umuchu, Aguata LGA, Anambra South Zone, etc. They opposed zoning, saying that Anambra people never held meeting to discuss zoning and agreed on it. They contended that the office of governorship should be thrown open to all zones, so as to get best, as zoning shall deny the State quality leadership in such high office as governor.
But thanks to Peter Obi's sagacity, equity, justice, fairness, resilience, and his candidate to succeed him, emerged from the North Senatorial Zone, in the person of the incumbent governor, Chief Willie Obiano, from Aguleri, Anambra East LGA, Anambra North Senatorial Zone.
Even, in 2017, when Peter Obi and Willie Obiano fell out of grace, and Obi wanted to replace him, Obi still maintained the zoning principle. Obi chose a candidate from the Anambra North Zone, in the person of Ambassador Oseloka Obaze, from Ochuche, in Ogbaru LGA, Anambra North Zone. Obi and Obaze affirmed that they would do for only one term, of four years (2018-2022), to complete the tenure of Anambra North Zone. They schemed for this by choosing a learned personality, as Running-mate for Obaze, in the person of Dr. Alex Ekwueme's daughter, Barr. Mrs. Alexandra Onyelukwe, whose maiden home was from Oko, in Orumba North LGA, Anambra South Zone, and her matrimonial home, from Nnewi, in Nnewi North Zone LGA, in Anambra South Zone. In 2022, his Deputy, Barr. Mrs. Alexandra Onyelukwe, should succeed him in the zonal principle, for the next 8 years, from 2022-2026-2030.
As it is said that an adult does not stay in the house, while the mother-goat gave birth while tied to the tether, so the Traditional Rulers Council, who are the Royal Fathers of the State, gave their fatherly advice, and urged politicians to maintain the zoning formula. In this case, when Willie Obiano from Anambra North Zone, must have completed 8 years in 2022, his successor should come from the Anambra South Zone. After the eight years of 2022-2026-2030, the Governorship should rotate to Anambra Central Senatoral Zone. The Ohaneze Ndigbo, Anambra State Branch, the Anambra State Association of Town Unions (ASATU), all endorsed the rotational system. So, with this development, the Governorship zoning has become a convention in Anambra State, and must be obeyed.
It should be mentioned that Britain, who were former colonial masters of Nigeria, from whom Nigeria got Independence in 1960, is one of the most stable and wisest Nations in the World. The laws that guide them are both WRITTEN CONSTITUTION AND UN-WRITTEN CONVENTION. So, let Anambra emulate their former wise master, by ruling themselves with both WRITTEN CONSTITUTION AND UN-WRITTEN CONVENTION, which governorship zoning represents.
When malicious detractors were critizing rotation to Anambra North Zone, in 2009, their skepticism was that riverine people who are accustomed to pounded yam and fresh fish, could hardly give qualitative governorship, and that they have no money-bags to pick the bills of expensive governorship campaigns. According to Pamela Eboh, "The murky waters of politics in Anambra State, infested by crocodiles, require people who have deep pocket". But Obiano's fantastic achievements have shamed them. When Obiano was coming to office in 2014, he appreciated the achievements of former Governor Peter Obi and pledged the slogan of "CONTINUE, COMPLETE, COMMISSION, COMMENCE (CCCC)". This means that he shall continue the projects of his predecessor, complete them, commission them and commence his own projects. Obiano has been faithful to this pledge. Look at the area of SECURITY, which is the iron pillar of development projects, because no development can thrive, if life of people and property are not safe. In fact, the credit of originality of efficient security in Anambra should be given to Peter Obi. When he came in 2006, private army of his predecessors and armed robbers seized the Motor Parks and markets, and confiscated their revenue. Peter Obi adopted the constitutional measures of using Police and Army for security work, and chased the criminals from the State. He made judicious use of his "SECURITY VOTES, and re-enforced the Police/Army with equipment. He appealed to his original constituency, THE BANKS, to remember to perform their "SOCIAL RESPONSIBILITY OF BUSINESS," by helping to equip the Police, which yielded positive results. Obi sent "EXECUTIVE BILLS", to the Legislature for law of CAPITAL PUNISHMENT, on kidnappers. He implemented the law at Uli, Ihiala LGA, Oroifite, in Ekwusigo LGA, Old Market Road Onitsha, in Onitsha North LGA, to mention but a few. It was Obi's strategy that chased away notorious criminals, like Evans, from Anambra State.
As it is said that the student should learn from the teacher and try and surpass the teacher, Obiano, who pledged to commence on the foundations of his predecessor, started from the security foundation of his predecessor, in financing security from State resources, and as both of them came from the banking sector, also emulate Obi to appeal to the Banks for assistance. Obiano then surpass Obi, especially, with the latest "OPERATION KPOCHAPU 2" with the latest superior sophisticated equipment, which is Technological Transfer from America, comprising "Close Circuit Camera Televisions (CCCT), speed security vehicles, for Police, Army, other Security Agencies, which have confirmed Anambra as the safest State in Nigeria.
Obiano's system of good governance has blossomed economic progression in Anambra. His expert security which guaranteed safety of life and property, has attracted numerous investors to the tune of over Five Billion Dollars. His diversification of the economy into Agriculture has made Anambra a great producer of the most staple food items, the Rice and the Cassava, which formerly, drained foreign exchange from the State. He attracted the Governor of Central Bank of Nigeria, Dr. Godwin Emefiele, who pumped Seven Billion Naira, to the State, through the Coscharis Mechanised rice Farms, and Obiano's Anambra State Small Business Agency (ASBA) helped local farmers with Two Billion Naira, and all these combined efforts from large scale farmers and small scale farmers, in the system of mechanized agriculture, have made Anambra superior in agricultural produce in Nigeria.
When Obiano came in 2014, Anambra local farmers were producing 80,000 metric tons of rice, while consumption was 320,000 metric tons yearly. He introduced new system which made production to rise to 500,000 metric tons in 2019, and thus, Anambra has food sufficiency and surplus for export. Other areas of good governace, with rural urbanization as recommended by the United Nations Organisation (UNO), are N20 million choose your project, to each Town, with native contractor and labour so that money can circulate to villagers. Quality health care, buttressed with Anambra State Health Insurance Agency (AISHA), Education, which are verifiable, speak for themselves. Hon. Barr. Paully Onyeka, former Member of Anambra House of Assembly, (Ekwusigo Constituency, Anambra South Zone), testified to Obiano's capability of good governance, and said: "The truth is that Obinao's achievements are crystal. They are very clear and evident enough even for the blind to notice. Many landmark projects are either fully completed or on-going". (Fides newspaper, July 12-18, 2020, page 6).
So, Obiano's achievements, have vindicated the wisdom of advocates of governorship rotational zoning. It has proved the biblical adage that "A REDEEMER CAN COME FROM NAZARRETH".
Desperate governorship seekers have started their game of malicious skepticism again. They are saying that zoning should be jetitioned, to pave way for their so-called "quality leadership". But there are many potential quality leaders, from the Anambra South Zone, where All Progress Grand Alliance (APGA) has zoned her governoship candidate for 2021, judging from their proven records of intelligent, humanitarian and philanthropic services to the people. Among them are Prof C.C. Soludo, from Isuofia, Senator Ifeanyi Ubah, from Nnewi, Prof. Kingsley Muoghalu of Nnwei. Chief Godwin Ezeemo of Umuchu. Dr. Godwin Maduka of Umuchukwu. Engr Johnbosco Onunkwo of Igboukwu. Hon. Emeka Azubogu of Nnewi. Hon. Okwudili Ezenwankwo of Nanka, Chief Allen Onyema of Iseke, Chief (Mrs) Nkoli Imo of Ukpor, to mention but a few. Can any of these desperate governorship seekers from Anambra Central Zone, beat the records set by the above mentioned public spirited leaders. They should wait for 2030, and then they can come to prove their own mettle.
CORRIGENDUM
In our edition of the DONAC PILOT, December 31, 2019 page 12, titled: "HON. PHARM. OBINNA EMENAKA, CONCLUDES FREE MEDICAL OUT-REACH", held at Nando Town, Anambra East Local Government Area, Anambra State, we described Chief John Iwuno, as the Traditional Ruler of Nando. The true identity and designation of CHIEF IWUNO is that he is A COMMUNITY LEADER, in Nando.
We also described Prof. Charles Nwadigwe, as President General of Nando. The true identity and designation of PROF. CHARLES NWADIGWE, is that he is the PRESIDENT OF IVITE-NANDO.
We also described Sir Anthony-Mary Amali, as a Community Leader. The true identity and designation of SIR ANTHONY-MARY AMALI, is that he is the CHAIRMAN, NANDO CARETAKER COMMITTEE.
Any embarrassment that the mistake caused to Nando Town and Hon. Pharm. Obinna Emenaka, is sincerely regretted.