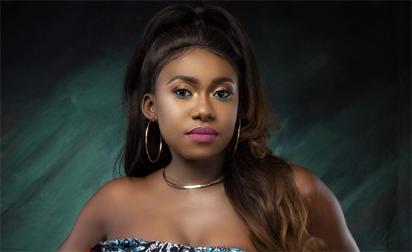 Currently one of the biggest acts in the Nigerian music industry, Ekiti State born Niniola Apata, better known by her stage name, 'Niniola', broke into limelight shortly after emerging 3rd runner-up in the 6th edition of MTN Project Fame. Renowned for her electrifying display of stage energy, musical dexterity and stage craft, she has been able to create a world of her own in the Nigerian music industry through hard, resilience and consistency. In this interview, she speaks of how she developed interest in music, career success so far and more. Excerpts.
Niniola You were nominated for major awards in 2016 and 2017 but won in only very few category, how do you feel about this? Well, a nomination itself is a win; nominations and actual winning is a big deal/recognition, but it won't stop me from working harder, the fact that I was recognized did it for me. The awards will come my dear. How do you feel to have won the Best African Collaboration award at Afrima 2016? I feel so blessed and elated. Best African Collaboration, not Nigerian or West African. I'm thankful to God, my East African brother, Eddy Kenzo, Naijareview, and of course the fans that voted.
Do you feel threatened by the likes of Tiwa Savage, Omawumi, Yemi Alade, Seyi Shay and the likes? Ah! (Laughs), Oh no, they are my seniors o! I met them in the industry, they paved the way for females like me, and I respect their craft. I can only admire them but will never ever feel threatened by sisters; there is enough space for everyone. What is your take on the credibility of music awards in Nigeria? Award bodies recognize artistes who have had outstanding performances in the year in review which is a great thing and it's up to them to make it free, fair and transparent. How did you develop interest in music and not something else? My interest in music was as a result of boredom as a child (laughs), it's funny but true.
My parents didn't take me out and I had to get busy, so music occupied my time. What influenced your repertoire of songs during childhood? As a child, I got my repertoire of music from my parent's records and that of my older siblings; whatever records they played I listened to. Which artistes have influenced your style of music? Wow! I have an endless list of musical influences; to name a few there's Dolly Parton, Whitney Houston, Mariah Carey, Celine Dion, The Beatles, Shakira, Toni Braxton, Brandy, Beyonce, The Cranberries, Angelique Kidjo, Funmi Aragbaye, King Sunny Ade, etc. Many would say your emergence as 3rd runner-up at MTN Project Fame season6 was what shot you to fame, do you agree? In as much as it gave me a great platform (which I am forever grateful for), I won't say it was a major reason, because I had to get a management team, release my debut single and the follow-up singles, learn a lot about the music business, etc. I had to work hard on my own to achieve my life-long dream as an entertainer; which is still an on-going process. What gives you the kind of energy you usually exude whenever you perform on stage?
That's the grace of God. The stage is my playground, so to say and I basically have fun. That is the time my inner "extrovertish" nature (permit me to use that word) comes out to play, laughs. Within 4-years of breaking into the music industry you have been able to drop some hit singles currently enjoying massive airplay, featured on the remix of Eddy Kenzo's 'Mbilo Mbilo', and performed at major shows. How were you able to achieve all of these? Well,
I will say I'm barely 3-years in the industry because I dropped my debut single "Ibadi" in March 2014. It has just been the grace of God, hard work, supports from family and friends, the media, my management and of course the fans, whom I call family. How were you able to get Sarz to produce your first official single 'Ibadi'? All I did was google up the "Best/Top Nigerian Music Producers" and his name popped up on all the lists. I checked out his work, loved it and contacted him to produce my debut single. What is that one thing you hate about the Nigerian music industry? Well, I do not hate anything about the industry. I just pray for steady growth/structure in the music industry. What is the greatest price you have paid for love? Time, because my love for music has taken all my time Can you quit music for your relationship? That's not possible! Not for anything/anybody will I quit music. I won't be in such an unsupportive relationship in the first place.