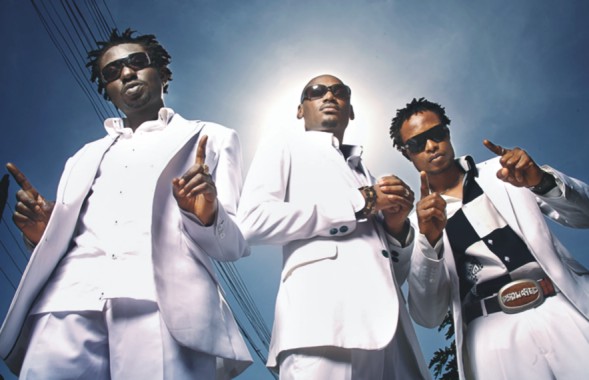 All roads led to Nicon Luxury Hotel, Abuja on February 23 for Faze's birthday bash and concert tagged Faze and Friends. Every A-list entertainer made their way to Abuja to support the iconic singer who had not staged a concert in a while.
Despite the fact that there was a heavy rain, it did not stop the massive turnout from crowds and entertainers alike. Despite the star-studded line up which included Tuface, the omission of Blackface at the event which later had to be postponed was very obvious.
Since the concert was tagged Faze and Friends, many music enthusiasts felt it was only proper for Blackface who introduced Faze to the Plantashun Boiz to have been invited. Some online commentators were quick to say that Faze was pitching a tent with Tuface simply because Tuface and Blackface had been at loggerheads for years.
In an exclusive chat with Saturday Beats, the singer said that he had seen such comments online and had purposely kept mute for reason best known to him. He added that there was no friction between him and Blackface.
"Blackface is the reason I joined Plantashun Boiz. He played a big role in my life. I learnt a lot from both Tuface and Blackface and I say this a lot. I know that people would raise an eyebrow that Blackface was not a part of my show even though Tuface showed up but I have a secret and I would not want to let the cat out of the bag. I have reasons why he was not at the event but I don't have to let the cat out of the bag about everything that was going on. I don't listen to what people say because if I had done that, I would not get to where I am today. I am not ready to please everybody, only my people and they are Blackface and Tuface. The public would always talk; if you do good, they say rubbish and if you do bad, it is the same thing. I have been ready for online comments that I shunned Blackface but the truth is that I have been speaking with him even while the event was going on and he would confirm to you that we speak regularly. If I am lying that we speak regularly, I know Blackface, he would voice out and say the truth but we spoke before the event, and even during the whole downpour," he said.
Speaking of the time when Nigerians also believed that he had issues with Tuface especially when he released the song, 'Letter to my brother' in 2006, the singer was quick to mention that everyone is now older and their level of tolerance is better than when they were youths. "I like to forget about the past and focus on the future; that is my mantra in life. It is the future that really matters and we are not growing any younger, so we cannot be talking about things of the past. Nigeria needs peace. We are old men; we are not Plantashun Boiz. If I have a fight with Tuface today, I would still settle it with him. I am going to always be a peacemaker and that is my job on earth. Even if he does not want to settle with me, I would still apologise to him. If I am not forgiven, I know that God would forgive me. We are all mature and we are more understanding and tolerant of each other. If you don't have an understanding with people, you cannot move on in life. We have fought, argued and quarrelled even with Blackface and other people but we would always make up except the person wants to fight to the end but I would make sure that I apologise. My apologies are always sincere," he said.
When Saturday Beats placed a call across to Blackface, he explained why he was absent at the show. The singer said, "What really happened was that I was not in the country on the day of his show. There was an appointment my management team and I had that we could not neglect. I had to leave the country urgently for Ghana, sadly, it coincided with the date of Faze's show. There was no way I could breach the contract I had with them in Ghana because it would have jeopardised a lot of things. That was the reason why I was not involved in the show. Of course, Faze is a brother, friend and colleague; so I have no issue with him. I was meant to be there at his show but we spoke about it and he understood my reasons."