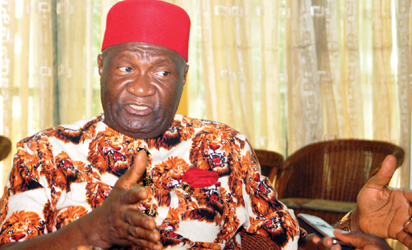 The apex Igbo socio-cultural group in Nigeria, Ohanaeze Ndigbo, yesterday stressed that the country should not be allowed to undergo another civil war.
This came as the body also reinstated that Ndigbo are not interested in secession but equity and fairness from leaders of the country.
This is even as Governor Aminu Bello Masari of Katsina State, yesterday, told sponsors of the Indigenous People of Biafra, IPOB, to have a rethink.
Speaking when he led leaders of Ohanaeze on a courtesy visit to Governor Aminu Waziri at the Government House, yesterday, President-General of Ohanaeze Ndigbo, Chief John Nwodo, said although Nigeria was in trying times, the cohesion that existed over the years was worthy of being maintained.
"Yes, our country is going through a trying period but we should not under any circumstances experience another civil war. We should not allow personal emotions to undermine our national unity," he said.
Nwodo who said the visit was at the instance of the South-East governors, assured of their cooperation for peaceful coexistence among the ethnic nationalities in the country.
He commended the Sultan of Sokoto, Alhaji Abubakar Sa'ad, for portraying himself as a father in the ongoing ethnic tensions by stating that 'whoever wants to attack the Igbo, should attack him first'.
"In the same vein, I came with the assurances of South-East governors that any Igbo who wants to kill a northerner, should first kill them."
Responding, Governor Tambuwal observed that those looking for trouble lacked other ways of channelling their grievances.
He said: "The recent quagmire is an act of people that do not understand any other way of channelling their grievances other than the way they have chosen.
"I assure you that we are at peace with each other and we shall continue to be because, you cannot worship God or do business without peace."
We're not interested in secession
Ohanaeze also visited a razed mosque at Ogurute, Enugu-Ezike in Igboeze North Local Government Area of Enugu State to commiserate with the affected Muslim community in the area.
Receiving a delegation of Northern Youths Assembly of Nigeria in Enugu, President of Ohanaeze Ndigbo in Enugu State, Chief Alex Ogbonnia, said Eastern Nigeria provides a wider market for northern produce just like the north does for Ndigbo.
He urged the northern youths to tell president Muhammadu Buhari that Ndigbo are more interested in a restructured Nigeria based on equity and justice but not secession.
Making reference to the invasion of the zone by the army due to agitation for Biafra, Ogbonnia said: "President Buhari should have been a father under the circumstances but the truth is that he came up with unprecedented marginalisation of Ndigbo, which resulted to agitations like you have seen in Nnamdi Kanu."
Speaker of the Northern Youths Assembly, Ukkasha Hamza Rahema, who led the delegation, stated that despite religious and ethnic differences, both nationalities remain brothers and sisters.
He disclosed that it was the northern youths assembly that asked the Arewa youths leaders to withdraw the quit notice it gave to Ndigbo.
"I'm here to tell you that Nigeria must be great again. Those creating violence are doing so because they don't know what they are doing. I believe in one Nigeria and I would rather die a hero than a coward," said Ukkasha.
Visits Enugu-Ezike razed mosque
Earlier, the Ohanaeze president and his executives visited the Muslim community in Igbo-Eze North Local Government Area of Enugu State to commiserate with them over the fire incident which engulfed a mosque in the area .
Ogbonnia said he was in the area to re-echo the existing peace and bond among residents of the state irrespective of their religious and ethnic differences.
He expressed sadness over the inferno and urged the Muslim faithful to accept the development as an act of God, which should not be allowed to affect the existing cordial relationship between Christians and Muslims in the state.
Chief Imam of Enugu-Ezike, Alhaji Ali Ossai, expressed happiness with the Ohanaeze leadership over the visit, stressing that they had lived in absolute peace with adherents of other religions.
IPOB sponsors should have a rethink — Masari
Governor Masari spoke when he received about 70 traders' associations which stormed the Government House to show solidarity with President Buhari and the governor during activities marking the 30th anniversary of the state's creation, September 27, 1987.
He said the Northern governors, who were on peace mission to the South-East with the support of the President were there to nip the crisis in the bud before it escalates to other parts of the country.
He said the North is not interested in disunity and so Igbo and other indigenes in the North are safe.
On fight against corruption, Governor Masari said enemies of Buhari are enemies of Nigeria, noting that not even Satan can stop President Buhari from fighting corruption.
We do not
sponsor IPOB —France govt
In a related development, the French government yesterday, dismissed the allegation by Nigerian government that France sponsors IPOB.
A communiqué signed by Claude Abily, Political Counsellor, Embassy of France in Nigeria read: "The Embassy of France was surprised by the statement made, yesterday, by Minister of Information and Culture, indicating that the 'financial headquarters' of IPOB was in France.
"We don't have any knowledge of a particular presence of IPOB in France and the Nigerian authorities never got in touch with the Embassy on this point. We stand ready to examine any information which could support this statement.
"Furthermore, we would like to reiterate that France actively cooperates with Nigeria in the field of security and that we strongly support the unity of the country."
Killer herdsmen not terrorists—Garba Shehu
Meantime, presidential spokesman, Garba Shehu, has said herdsmen, who attack citizens, are criminal gangs but not terrorists.
Shehu said this in an interview on Channels TV, yesterday, that the government did not declare herdsmen, who kill people, as terrorists because they are "only criminal gangs."
However, he added that security agencies were dealing with criminal herdsmen according to the law.
He said: "There is a difference between a criminal activity and a terrorist activity. Yes, some Fulani herdsmen are a criminal gang and they are being dealt with according to the law.
"But IPOB, like Boko Haram, has a territory they have carved out for themselves as a sovereign state of its own. They have shown the willingness to invade other neighbouring states. They have raised concerns in neighbouring Kogi and Benue states. They have said they are interested in taking over Bayelsa and Rivers. That is exactly what Boko Haram has done. This is not acceptable to the law of the country."