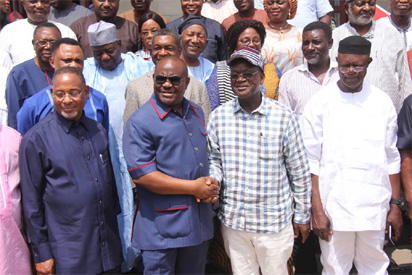 GOVERNOR Nyesom Wike Wednesday donated N200Million to persons displaced by herdsmen attacks in Benue state with a call for lasting measures to resolve the killings by Fulani herdsmen across Nigeria. *Some of the displaced children The governor who led a delegation of Rivers Elders on a condolence visit to Benue State in honour of those killed by Fulani herdsmen earlier in the year, said the amount was to assist the state government in providing relief materials and Medicare for those displaced by the crisis. He said: "What has happened in Benue has affected me. Look at deaths everywhere. Nobody is free again. People don't understand the magnitude of the injury inflicted on the people of Benue. The country must sit down to proffer solutions to this menace ". "There is no way anybody can justify these killings. There is no justification whatsoever. The people of Benue State must rally round their governor at this point.
"When you have a brother who has problems, you associate with him. Time has come when we must rise above party lines and tackle our problems ". He said as Christians, Rivers people respect the sanctity of human lives, hence the visit, urging the Benue people to be vigilant at all times and employ techniques of self defence to protect themselves from unprovoked attacks. Wike's condolence delegation was led by Governor Samuel Orthom to the graveside of the slain 73 persons where Sen George Sekibo, among the governor's entourage, offered prayers for repose of the souls of those
murdered. Benue State Governor, Ortom said 100,000 persons have been displaced by the invasion of Fulani herdsmen as the state also battles with influx of displaced persons from Cameroun. Orthom lamented that rather than resolve the security challenges facing the state, the Inspector General of Police has become a spokesman for the Fulani herdsmen.
The killers of Benue people, he said, were known to the security agencies, adding that the people will continue to seek justice until the leaders of Miyetti Cattle Breeders were arrested. Ortom thanked Rivers state for the solidarity as a demonstration of true brotherhood, revealing that the graveyard for the 73persons was set up as a memorial for those killed by Fulani herdsmen. Governor Wike was accompanied by former Rivers governor, Sir Celestine Omehia, Sen Sekibo, Sen Olaka Nwogu, former Sports Minister, Dr Tammy Danagogo, and former Minister of Transport, Dr Abiye Sekibo Also on the visit were Chairman, Greater Port Harcourt City Development Authority, Chief Ferdinand Anabrabra, former NBA President, Chief Onueze Okocha, Prince Emma Anyanwu and former Attorney General of Rivers State, Frank Ohwor.